HKBN Jr Tycoons take the season title, edging out the Kung Pow Jr Kings in U13 Island League Action
8 June 2021, 8:15pm - 10:15pm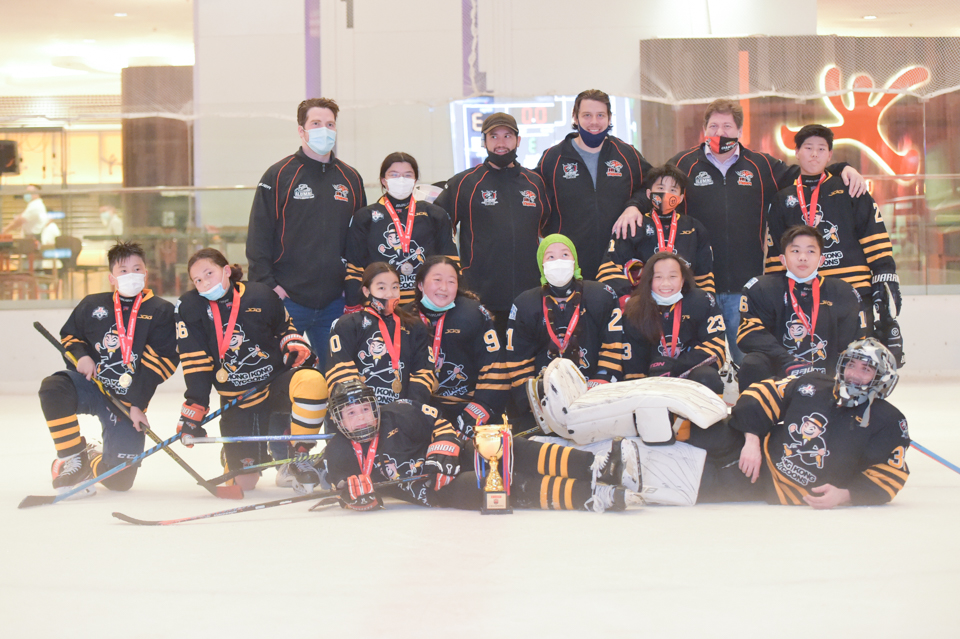 The U13 2020-2021 season was full of close games and culminated in a regular season race to first place, which continued all the way to an overtime finish in the league final.

The HKBN Jr Tycoons and the Kung Pow Jr Kings battled for supremacy all season, each finishing with 11 wins. The Jr Tycoons took the first seed by two points, gained in overtime games. Third place went to the Manulife Jr Aces who edged the Scotiabank Jr Sharks by one win.

Through the first round of playoffs the favourites proved victorious as the Jr Tycoons bested the Jr Sharks in a close match 3-2 and the Jr Kings shut out the Jr Aces 3-0.

With the final seating in place, the stage was set for two great games between evenly matched teams.

In the 3rd place game the Jr. Sharks upset the Jr. Aces in a very close game that saw the Jr Aces jump out to an early two goal lead before the Sharks responded with three unanswered tallies.

The U13 final was contested by two of the most closely matched teams in the Scotiabank Island League and played out in an intense and entertaining match. The first period was a dead heat as the Jr Kings got up early on a goal by Henrik Pang, which was answered by the Jr Tycoons Liam Deplaedt.

In the second period the only goal was scored by Isabelle Smyth giving the Jr Tycoons the lead going into the third period.

With their backs up against the wall the Jr Kings came out firing, quickly taking the lead with two games scored by Julian Ikeda and Donald Yau, respectively. As the third period pressed on, and with the Jr Tycoons running out of time Liam Deplaedt tied the game and sent the final to overtime.

The extra frame lasted less than a minute with both teams having puck possession and attempting rushes on the opposing end until Isabelle Smyth intercepted a pass and sent the puck over to teammate Max Lui who gained the zone and slide the puck by the defenders to send Smyth in all alone where she made no mistake glove side to give the Jr Tycoons the Championship.

Program update: The always-inclusive U13 Island League is looking ahead to another great season, and to continuing growing the skills of young players.