Junior Tigers registration is now LIVE for the 2023/24 season for all returning Junior Tigers players!
General registration will OPEN on May 15 for the 2023/24 season. Early bird pricing expires Jul 1 2023.
We thank you for your continued support of the Junior Tigers and we look forward to an exceptional 2023-2024 season.
Interested in becoming an on-ice official? Here is what you need to get your officiating career started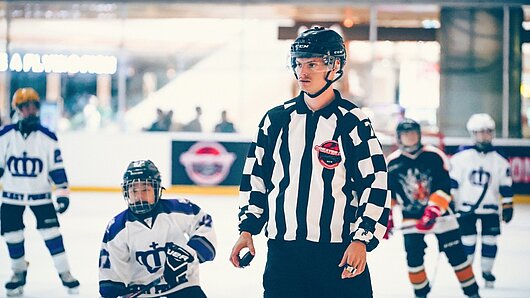 The Junior Tigers referee program offers the opportunity for youth participants to be involved in the game beyond playing. By following the levels of development, along with hard work and dedication, officials can find fulfillment in the form of advancement while making the game safe, fair and fun for all participants.
Working in coordination with the Greater Bay Ice Hockey Association (GBIHA), the program will offer a six-level system modeled after Hockey Canada with classroom examinations as well as on-ice and game evaluations. Individuals who have been certified from different countries with a similar program may achieve the same level upon the approval of the Referee-In-Chief.
It is vital that all games are officiated at the highest level to ensure fairness and safety. The progression of the different levels can provide the training and support for all officials throughout their development. All certified officials will be invited to take part in the leagues and tournaments around the region.
To register for the Junior Tigers referee program, please contact us today!