Junior Tigers registration is now open for Easter Camps, Spring and Summer Programs! Registration is open to all!
Our 2023-2024 season registration will be open on April 8, 2023.
We thank you for your continued support of the Junior Tigers and we look forward to an exceptional 2023-2024 season.
Manulife Jr. Aces Win U16 Island League Championship
1 July 2021, 8:30pm – 10:00pm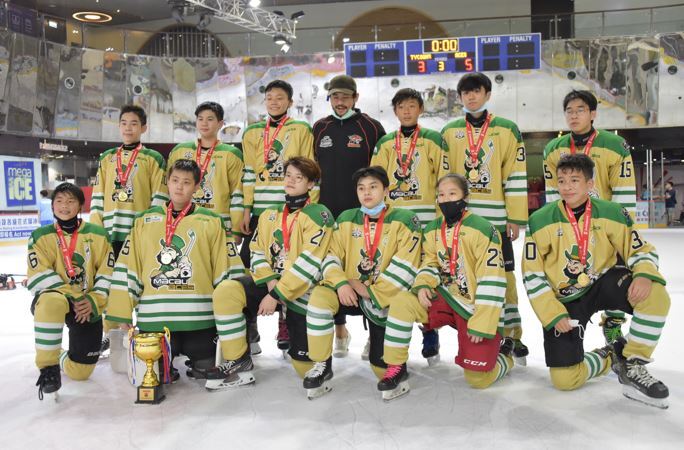 The inaugural U16 Island League Season ended in dramatic fashion, with the Jr. Aces claiming the title over the HKBN Jr. Tycoons with a 5-3 win. After a dominating regular season that saw the team post a 7-3 record, the Jr. Aces escaped with a victory in the League Finale after a last second empty-net goal.
The Jr. Aces jumped out to an early 2-0 lead, after goals by Hugo Wong and Owen Kwok. However, Jacky Liu and Alyssa Ho would answer back for the Jr. Tycoons to tie the game at 2, midway through the third period.
League-leading scorer Sammy Wong would regain the lead for the Jr. Aces following a strong individual effort, before Brian Yau increased the lead to 4-2. Lleyton Lam, on the powerplay, brought the Tycoons back within one – but it would prove to be too little, too late. Joe Ryan iced the game for the Jr. Aces with an empty-netter before the final buzzer rang.
Cayden Lock made 26 saves in defeat, while David Lam made 27 saves in the victory.
Program Update:
After a promising initial season, the U16 Island League will be back for another exciting year of action. Coach Whitney and Coach Ben will be again leading teams next season, while they combine forces to lead the U16 All Star Team in their SCIHL Division 1 tour.