U9 AsiaXpat Mini Warriors earn the season victory with a complete defensive effort against the HKBN Mini Tycoons
9 May 2021, 7:00am - 9:30am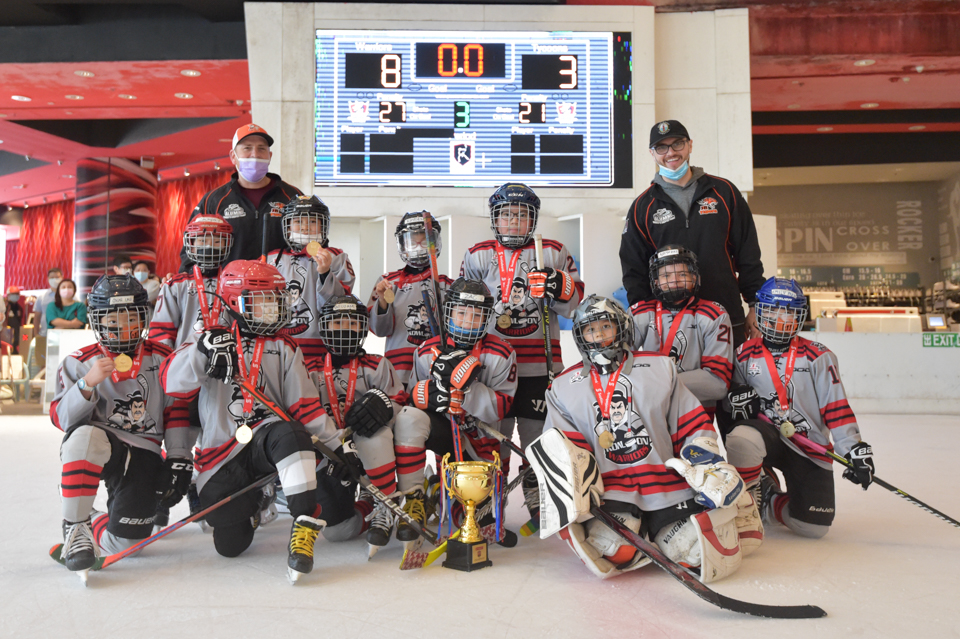 The U9 2020-21 season culminated with a set of heavyweight battles with the AsiaXpat Mini Warriors and HKBN Mini Tycoons competing for the Championship, and the Kung Pow Mini Kings and Scotiabank Mini Sharks battling for 3rd place. The addition of the skilled Kung Pow Mini Kings to the division this year made the path to Championship that much more difficult, and the season did not disappoint. Though much of the 2020-21 season was characterized by tight-knit games and low-scoring battles thanks to stellar goaltending, Championship weekend was a chance for goal scorers to shine as both games saw high-flying offenses put on a show.
In the 3rd place game, the Mini Kings defeated the Mini Sharks 9-2 thanks to a six-goal effort by Kings shutdown D-man Godfrey Lung. George Yoshino fought back adding two unassisted goals for the Mini Sharks in the 1st period, but the Mini Kings managed to keep the Sharks off the scoreboard for the remainder of the game. The Mini Kings were no doubt invigorated by their massive fan section highlighted by custom t-shirts, neon signs, and even a parrot mascot.
In the Championship game, the Mini Warriors defeated the Mini Tycoons 8-3 thanks to multi-goal efforts from usual suspects Zac Deplaedt and William Shapiro. Brandon Tse tallied a hat-trick for the HKBN Mini Tycoons, but ultimately a complete defensive team effort by the Warriors earned them the victory. The Warriors came into Championship weekend in full form after outscoring opponents 12-1 in the playoffs the weekend prior, and they were rewarded for their team's commitment to playing strong, smart hockey in all areas of the ice.
Looking ahead to next year the Manulife Mini Aces will look to rebuild and continue building on the already present talent within their team.
The U9 coaches continue to be impressed by the efforts, enthusiasm, and development of the players throughout the year and are excited for the 2021-22 season. We'd like to thank all parents and players for the commitment to the program and hockey in Hong Kong.
Program update: The U9 Island League is a full-ice development league dedicated to players with 1-2 years of hockey and skating experience and varied abilities. The league prioritizes a fun environment aimed at introducing hockey positioning, rules, and game tactics (offensive/defensive zones), and above all developing a passion for hockey. Players can expect equal playing time and a skilled coaching staff with extensive experience especially with coaching youth hockey.